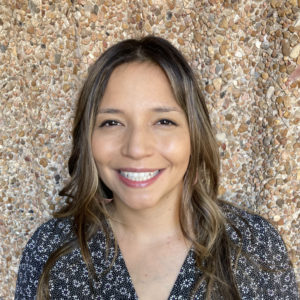 Catherine Valadez, RD, LD
Staff Dietitian, Adult Programs
Catherine Valadez, RD, LD
Staff Dietitian, Adult Programs
Catherine is staff dietitian for adult patients. She designs meal plans for adults in the Partial Hospitalization and Intensive Outpatient Programs and works with adults in the Emotional Overeating Program. She also teaches patients how to plan their meals, grocery shop, prepare simple, delicious, healthy meals and coordinates planting and use of herbs from the Esperanza garden.
Catherine earned a Bachelor of Science in Biology and her Master of Science in Nutrition from the University of the Incarnate Word. She worked with the culinary team at the San Antonio Botanical Gardens where she honed her cooking skills and has most recently been in private practice. She is working to become an Intuitive Eating Counselor and uses weight-neutral approaches to health, focusing on behavioral changes and the Health at Every Size (HAES) philosophy to help clients make peace with food and tune in to what health means to them.
Helping patients learn to incorporate regular meals and snacks that will support their own mental and physical wellbeing and provide the support they need in the learning process is Catherine's primary focus. She is passionate about guiding patients as they progress toward healing their relationship with food.