Join us virtually for the annual South Texas Eating Disorder education event. Earn up to 6.5 CEUs at this day-long workshop, network with other clinicians, and hear successes of long-term recovered individuals!
Our Clinical Director and CEO, Susan C. Mengden, PhD, CEDS and iaedp Approved Supervisor, will be presenting on "Utilizing DBT with Adolescents and Their Families in the Treatment of Eating Disorders"  
Great news – you do not have to attend the Symposium on the day scheduled to receive your credits…but you do have to sign up beforehand.   You then will have 30 days following the Symposium to watch the presentations and get your CEU's.
For complete information and registration go to the Resources page, click  Events to find the link for event flyer.
ESPERANZA PROVIDES CONNECTION FOR RECOVERY
CONNECT WITH US AT 210.253.9763 FOR INSURANCE REVIEW AND TO SCHEDULE AN ASSESSMENT
Read about the expert work relationship of our virtual and onsite Esperanza Diet Techs. Click to download and read how Dahlia and Zaira guide their patients recovery in two different but impactful ways.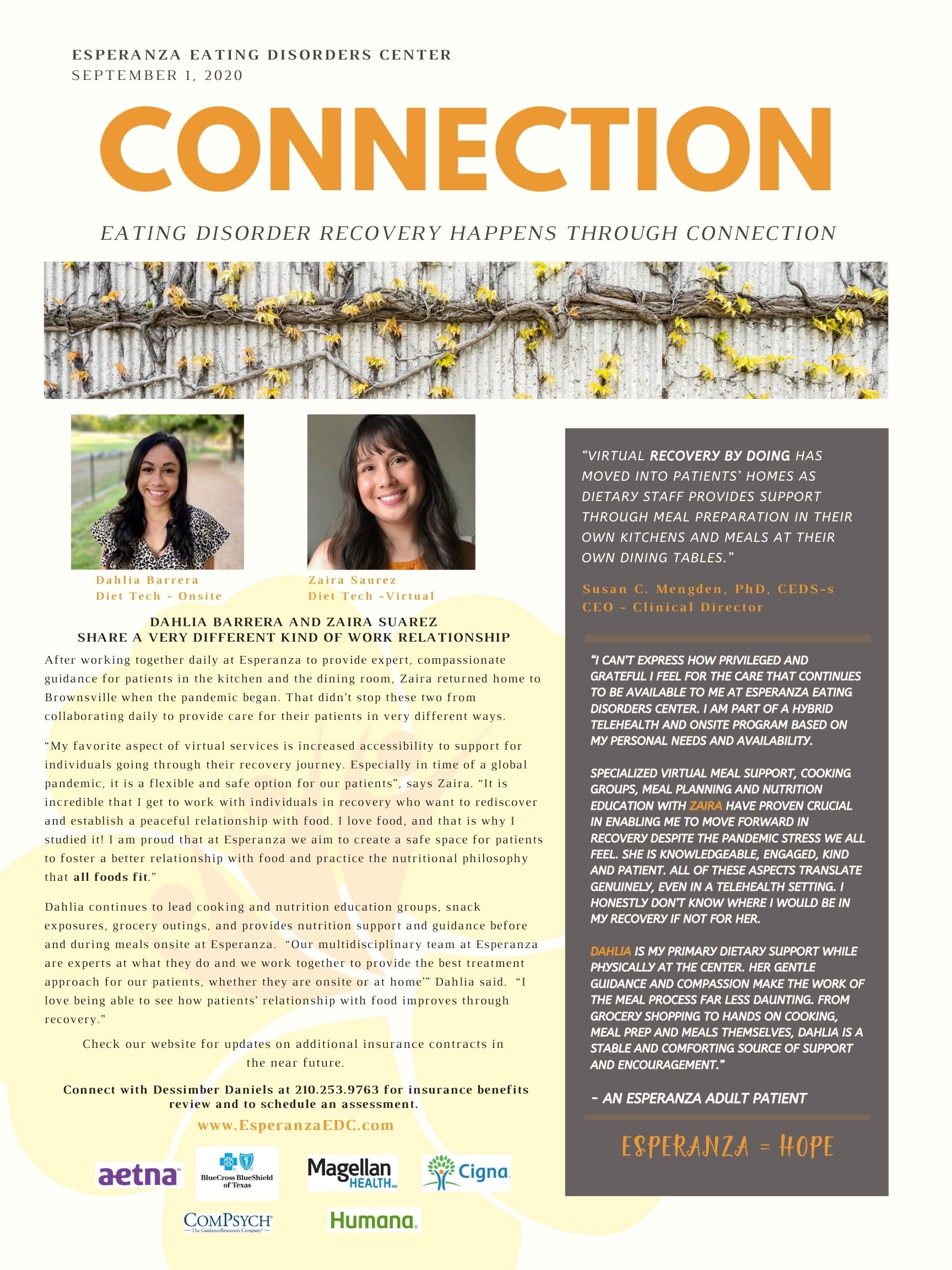 The favorite aspect of our family therapist Paul Campbell's job?…The families, of course! Click to download and read about how Paul facilitates therapy with families during the recovery process.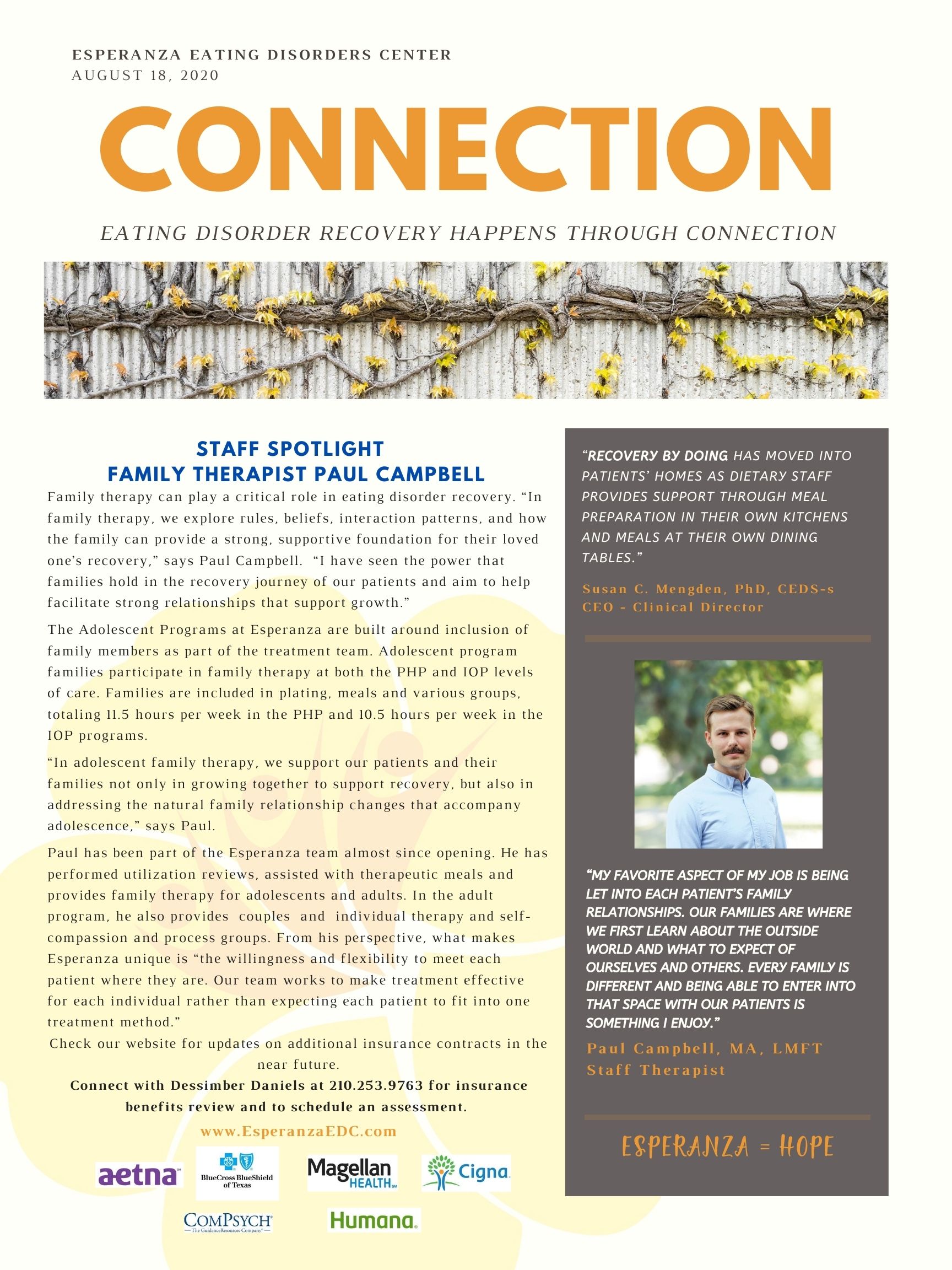 Education Liaison, Susan Heinemeyer is dedicated to supporting our adolescents' academic needs during treatment. Click to download and read about Susan's enthusiasm for our teen patients.

At Esperanza Eating Disorders Center, our goal is to provide a supportive, empowering environment for eating disorder recovery.  Our team of experienced multidisciplinary clinicians utilize evidence-based treatment approaches to provide individuals with a wide range of skills and healthy coping behaviors to guide them to a life of fulfilling recovery. 
Our cornerstone philosophy is Recovery by Doing. Patients do not just hear about what to do, they get hands-on experience doing recovery. Integrative therapies as well as grocery shopping, cooking and plating their own meals and activities like restaurant outings are all part of our hands-on approach to healing.  
We look forward to doing recovery with families and professionals in the South Texas community.
Contact us at (210) 253-9763 to take the first step.
With Shared Hope, 

Susan C. Mengden, PhD
Certified Eating Disorder Specialist
iaedp Approved Supervisor
Clinical Director & CEO
Esperanza is open and caring for our clients and our South TX community during COVID-19.
Programs have been offered virtually for the safety of staff and patients since March. At this time, Esperanza's PHP for Adults has reopened onsite. The IOP curriculum will remain virtual until further notice. We hope to be able to announce reopening of onsite IOP program soon.