ESPERANZA COVID-19 INFORMATION
Esperanza is now an in network provider for: Click here for a download.
Aetna
Blue Cross/Blue Shield
Humana
Magellan Health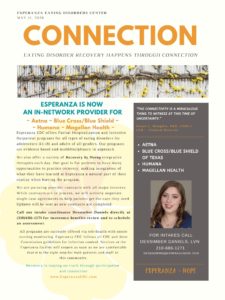 We are connecting our dietary team to our clients and outpatients providing nutrition services and support that are so crucial to the recovery process. Click for a pdf download.

At Esperanza Eating Disorders Center, our goal is to provide a supportive, empowering environment for eating disorder recovery.  Our team of experienced multidisciplinary clinicians utilize evidence-based treatment approaches to provide individuals with a wide range of skills and healthy coping behaviors to guide them to a life of fulfilling recovery. 
Our cornerstone philosophy is Recovery by Doing. Patients do not just hear about what to do, they get hands-on experience doing recovery. Integrative therapies as well as grocery shopping, cooking and plating their own meals and activities like restaurant outings are all part of our hands-on approach to healing.  
We look forward to doing recovery with families and professionals in the South Texas community.
Contact us at (210) 253-9763 to take the first step.
With Shared Hope, 

Susan C. Mengden, PhD
Certified Eating Disorder Specialist
iaedp Approved Supervisor
Clinical Director & CEO
Esperanza is Open and Caring for Our Clients and our South TX Community During COVID-19
Click here for more information