REGISTRATION IS NOW OPEN!
2022 RECOVERING THE POSSIBLE SYMPOSIUM

September 23, 2022
8:00am – 4:00pm
Location: Alamo Heights United Methodist Church
825 E Basse Rd
San Antonio, TX 78209
Join us for the annual South Texas Eating Disorder education event. Earn up to 6.5 CEU's at this daylong workshop, network with other clinicians, and hear successes of long-term recovered individuals.
For full symposium details download the flyer here.

March 20, 2022
11:30am – 1:00pm CST / 11:30 – 11:50am Chapter Meeting
Location: Esperanza Eating Disorders Center *new location
140 Heimer Rd, Suite 400
San Antonio, TX 78232
Bring your own lunch
"What Goes Into a Well-Weight?"
Presented by Sarah Snavely, RD, LD
Moderated by Susan C. Mengden, PhD, CEDS-s, CGP
 This presentation will address the approaches and barriers to assessing well-weights across the lifespan. The primary aim is to educate and provide resources on the nuances of the topic.
Learning Objectives
Compare and contrast assessing well-weights for adults and adolescents.

 

Explain the potential impacts of delayed growth and development in adolescents.
Identify barriers towards determining well-weights and utilize potential interventions.
Sarah earned her Bachelor of Science in Dietetics from Iowa State University. She completed herdietetic internship through the Miami Valley Hospitalin Dayton, Ohio. Sarah works as the Director ofDietary Services at Esperanza Eating Disorders Centerwhere she primarily serves primarily adolescents andfamilies. Outside of the office, Sarah spends her time enjoying the outdoors and spending time with her fiance and animals.
1 CE Hour Available – Pending Approval By: iaedp Foundation
Scan to register, or visit our website sanantonioiaedp.com

September 17, 2021
Esperanza is one of the sponsors for the iaedp Foundation San Antonio Chapter 2021 Recovering the Possible Virtual Symposium 
Friday, September 17th
9Am – 4PM CST
Join us virtually for the Annual South Texas Education Event. Earn up to 6 CE credits at this day-long workshop and network with other clinicians. Click HERE to view the presentations being offered.
Click to register or Scan the QR code in the downloadable flyer (pdf)
August 11, 2021
Timberline Knolls Residential Treatment Center and Esperanza EDC are hosting a Professionals Networking and Educational Dinner including a presentation featuring Esperanza's Susan C. Mengden, PhD, CEDS on "Utilizing DBT for Eating Disorders and Comorbidities."
Click here to download (pdf)
Wednesday, August 11th
Evening begins at 6:00pm
Maggiano's Little Italy at The Rim
17603 IH-10
San Antonio, Texas 78257
Please RSVP to:
Diane Faison-Roe, Professional Outreach Representative
Timberline Knolls
Email: Diane.Faison-Roe@TimberlineKnolls.com or call/text: 805.680.8822
July 27, 2021
THE DINNER & CE EDUCATION PRESENTATION IS BEING POSTPONED AND WILL BE RESCHEDULED FOR LATER DATE. PLEASE STAY CONNECTED FOR MORE DETAILS.
The Eating Disorder Foundation of South Texas (EDFSTX) will be sponsoring a complimentary dinner and 3-hr CE presentation on ACT:  "The Use of Acceptance and Commitment Therapy as the Foundational Approach for the Treatment of Comorbid or Non-comorbid Eating and Anxiety Disorders"
Presented by:
Sam Lample, LPC, CEDS and IOCDF Member
Tuesday, July 27th
5pm – 8pm
Hardberger Park Urban Ecology Center
8400 NW Military Hwy
Please RSVP to:
Hallie Nikotich
National Outreach Director
Email: hallien@EsperanzaEDC.com or
call 210.722.5999
Click here to download the flyer (pdf)
May 28, 2021
Olive Branch Counseling and Training and Esperanza will be providing an in-person FREE 2-hour CE. Our Clinical Director and CEO, Susan Mengden, PhD, CEDS iaedp Approved Supervisor, will present – Recognizing Eating Disorders and Exploring Treatment Modalities.
Space is limited. Registrations are made through the following link: https://olivebranchsa.com/training/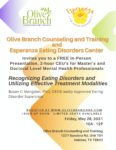 March 18, 2021
Our Clinical Director and CEO, Susan Mengden, PhD presented – Utilizing Dialectical Behavior Therapy with Adolescents and their Families in the Treatment of Eating Disorders for the iaedp 2021 Symposium.
Visit our YouTube channel to view her presentation: https://youtu.be/d1eBOaAvKEE
February 27, 2021

Saturday, February 27, 2021
2:45pm – 5:15pm
Zoom in (or not!): Virtual Group Telehealth Delivery, Body Image
and the Therapeutic Relationship
Susan C. Mengden, PhD, CEDS
Sharon Bolin, LCSW, MSW, BA
Register: www.agpa.org
February 9, 2021
Please Join Center for Change for a
Free Educational Webinar
Recognizing & Treating Underserved Eating Disorder Populations:
US Military, Food Insecure, Hispanic, Elderly & Disabled
1:00 PM – 2:00 PM CST
This free CE presentation will be given by Esperanza's Clinical Director and CEO, Susan C Mangden, PhD, CEDST
Watch the presentation on the Center for Change YouTube channel : https://youtu.be/1JghYNYiW0k
September 25, 2020
Join us virtually for the annual South Texas Eating Disorder education event. Earn up to 6.5 CEUs at this day-long workshop, network with other clinicians and hear successes of long-term recovered individuals. Esperanza's Susan Mengden, PhD, CEDS-s will be presenting on "Utilizing DBT with Adolescents and Their Families in the Treatment of Eating Disorders"